Sunday afternoon all five of us headed out early to take the girls back home. We decided it was our last chance to see this guy for a while....
Brendan is not a fan of long car trips, so he and I usually stay home while Tom makes the 4+ hour drive to the "halfway" point on his own. Sundays are a little on the sad side, so we decided to go with him and take the kids to Chuck E. Cheese. I had no idea Brendan would enjoy it so much.
Can you tell that he wasn't ready for the ride to be over?
Not only did he ride with Bob the Builder and Barney, he also played some games...
...and won his own tickets.
We gave these three tickets to the girls. Who almost came to blows over them in the middle of the restaurant. Luckily, Dad missed that particular spectacle.
He slid down the slide...
...and sat on the broken carousel horse.
He can now sit in a high chair and play while we eat, which makes eating out much more enjoyable. Well, for us at least. He does tend to bang his toys on the table and make as much noise as he possibly can, which I'm sure the other patrons don't particularly enjoy. Thank goodness a little extra noise goes unnoticed at this particular establishment.
After about an hour of non-stop playing, the little peanut was ready to call it quits.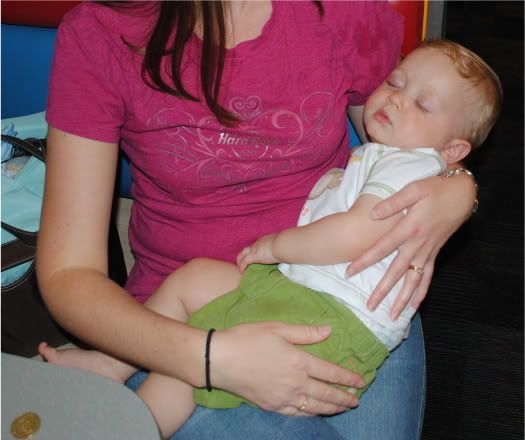 I totally cropped this picture to remove my double chin.

The girls had a good time, too. It's hard to keep up with the two of them in Chuck E. Cheese. They get their tokens and from then it's a mad dash to see who can use them up the fastest. And then they want more!?! Makayla is usually the first to use up hers, and then she tries her hardest to make you feel sorry for her. For $50 we got lunch and these glasses.
I think this is my favorite picture of the day.
Kirsten got the same pair, but I think Makayla rocks them just a tiny bit better.
And here's a quick recap from the rest of our weekend. I don't have much time to comment since I'm supposed to be making myself useful around the house.
Tom's squadron puts on a haunted house every year. We took the girls Saturday (during the day) and someone was there to walk us through while it was empty. She showed us the ins and outs of each room and then told us that in the early evening they let kids come through and they kept all the lights on and the actors would just wave instead of try to scare the snot out of everyone. Kirsten and Makayla decided they wanted to come back in the evening. Tom stayed home with Brendan while I took them.
Here are the two brave souls before we went in. Makayla tried to chicken out on our way in, but I tugged her in, and once she saw they were handing out candy, she was fine.
Makayla just had to go in costume. I asked her what she was doing with her finger. I was informed that it was her "hook." Oh, and she tried to leave the house in her pirate costume...and brown high heel sandals.
And here they are after we made it through.
Although they both clung tightly to me, something spooked Makayla about a third of the way through. She went through the rest of the house with both arms wrapped around my waist and her face pressed into my back. But she won't admit it.
Poor Tom said this took a lot of patience. He had them sitting on plastic bags so they wouldn't get pumpkin all over his work bench. Every time he turned around, Makayla was off the plastic and smearing pumpkin all over the place.
The rest of these pictures are included just because they're cute.
I am determined to get this boy interested in books. So far, so good.
And here's just a little taste of what's in store for this weekend.
Is he not the cuddliest tiger you've ever seen?