This is completely out of character, but I was so moved this morning that I feel the need to post on a different subject. I'll continue with a normal post, and pictures, at the bottom.
This morning I happened upon an article about the recent presidential election in Belarus. The election took place about a month ago, and it was a complete railroad. The current president, or more accurately, dictator, Aleksandr Lukashenka, won by a landslide in an election that was obviously rigged. After the election there were peaceful protests, and four of the other presidential candidates were arrested. Two were beaten. For what? For "igniting mass unrest" when they were really only
peacefully
protesting an unfair election? How is this possible in this day and age?
I first read
this small article
. The last line states that two of Lukashenka's opponents were beaten and had yet to recover from their injuries. The arrests occurred a MONTH ago. And they have still not recovered? I then googled their names. This is the
first article
I found, and I later found
this article
on wikipedia. Tortured? Suffering from brain damage? I also found
this one
, which includes a photo of presidential candidate Uladzimer Nyaklyaeu in the hospital after he was beaten. He was then removed from his hospital bed and imprisoned where it is unknown, but unlikely, that he is getting any type of medical attention. I was in tears reading these. These men have done nothing more than try and establish a democracy for their country. As an American, and especially a military spouse, it is incomprehensible to me that atrocities such as this occur. I have never claimed to know much about politics. But I still have the right to cast my own vote for whomever I choose, for whatever reason I choose. And my vote counts. How is it not the same all over the world? And how does all of Europe stand by and let it happen?
Please keep this country, and these people, in your prayers. Lord knows they need it.
Last week Brendan and I headed to the library for a new stack of books. Much to my surprise, we ended up at Story Time. Unfortunately, the normal story readers were both home with sick kids so one of the other moms filled in. All she read was Dr. Seuss. How about a little variety, please? Maybe a Caldecott winner?
When I heard about Story Time, I pictured a room of quiet children sitting on the floor with their hands folded neatly in their laps, captivated by the story. I knew Brendan wouldn't fit in with that crowd. I was delighted to see that he wasn't the only one.
That's Story Time in the background.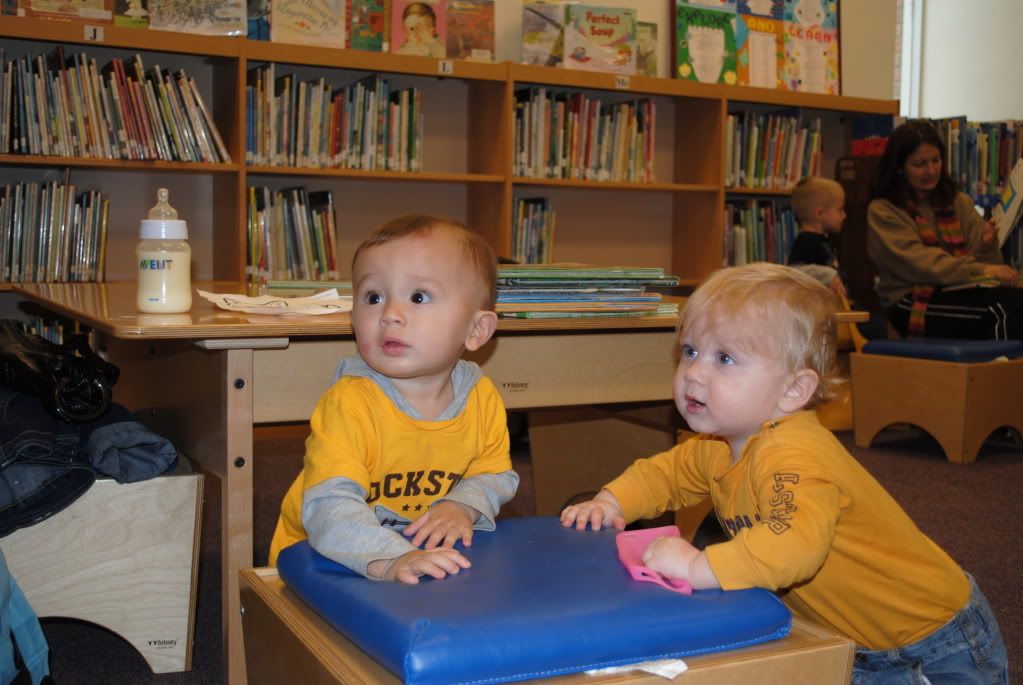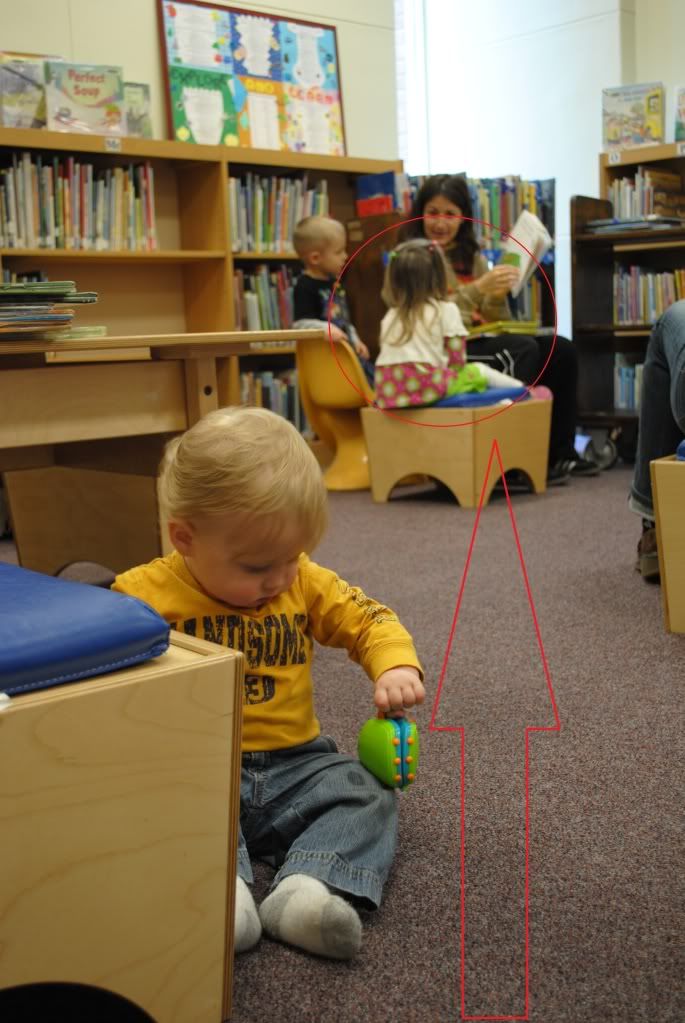 See the kid in the circle? She was mean to my baby. Unless things change the next time around, we will not be her friend.
For the most part, we spent a quiet weekend at home. The weather was crappy. Again. We did venture out Saturday afternoon to a birthday party. I forgot the camera. Oops. I was wishing I had it because the birthday girl had on a tutu, but I wasn't willing to walk home in the rain to get it.
Sunday afternoon was still yucky but we went for a drive. We're scoping out the good spots for the summer and we found another one.
Brendan (Mommy) is already looking forward to ice cream.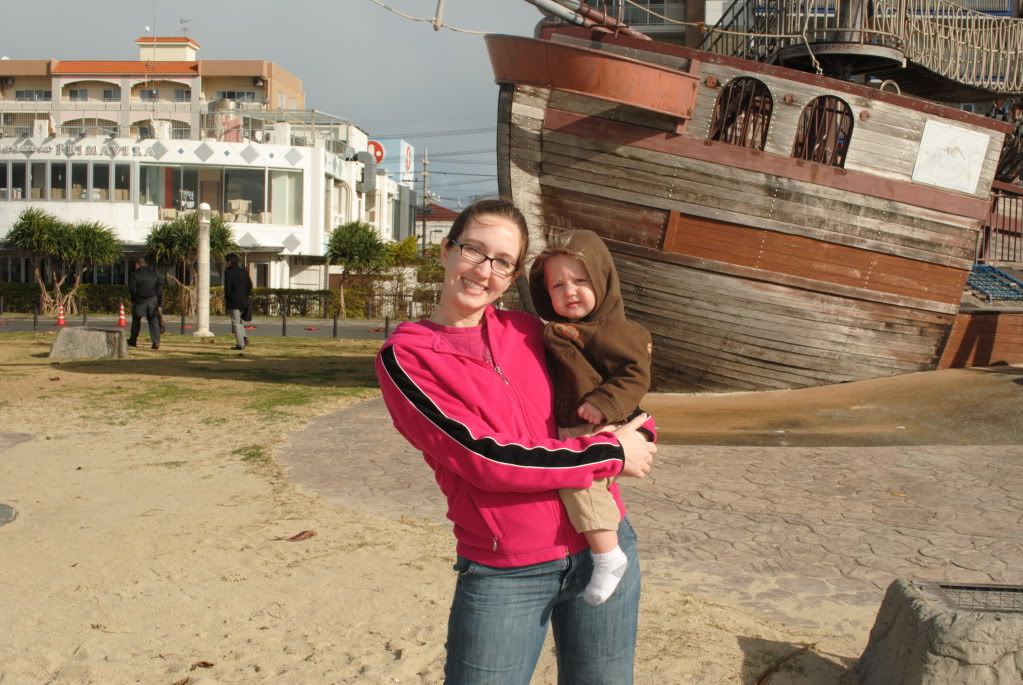 That big ship is just for kids to play on.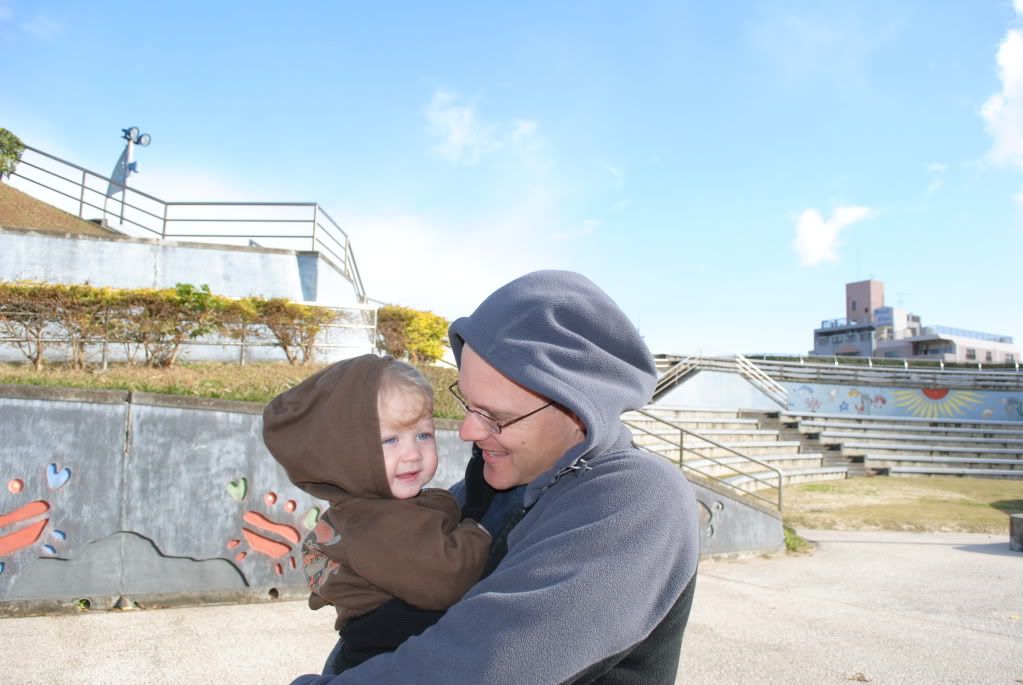 Check out that wind!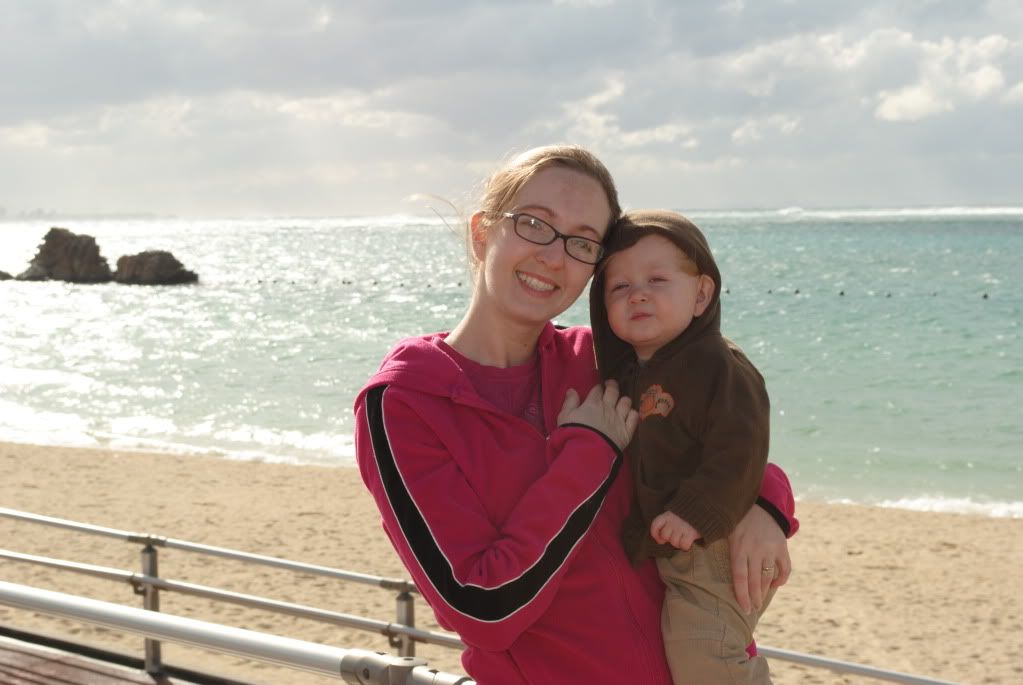 Last week my neighbor took me to a 100 Yen store. It's basically the Japanese version of the dollar store but So. Much. Better. You know how everything at the dollar store is a piece of junk? Not so over here. And they sell off brand, crappy chocolate at the dollar store. Not so over here. We spotted one in a shopping center on our way home. I told Tom we should check it out. It was meant to be. This is what we saw when we pulled in.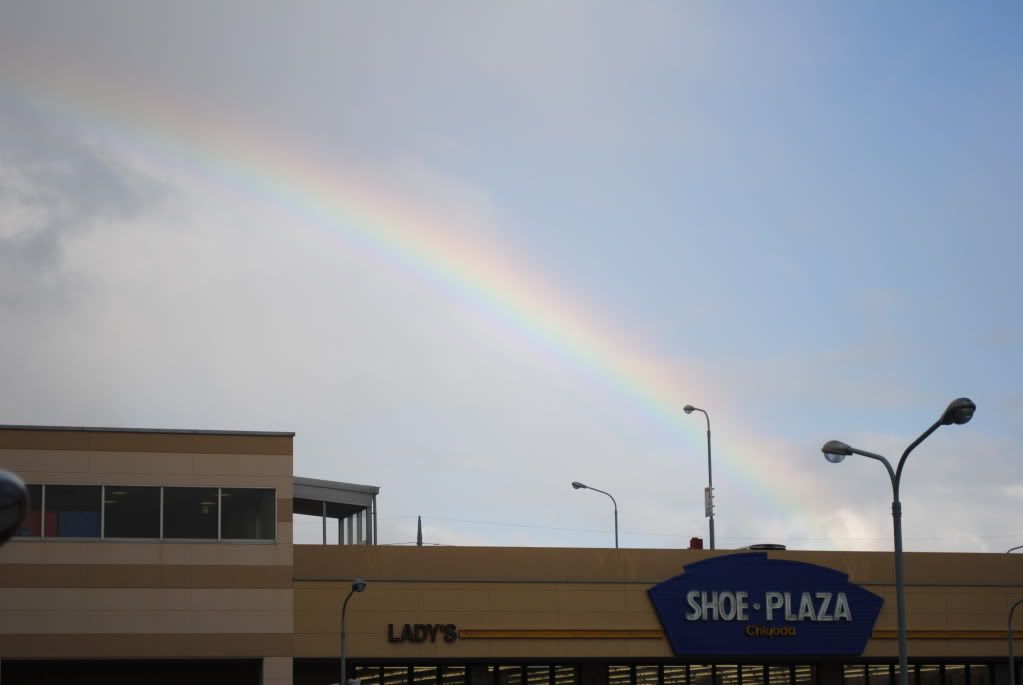 And for the record, he spent about $15.
I took some more rainbow pictures (on manual mode!) while I waited for him to get some sushi at the commissary. And for the record, a lot of my Araha Beach photos were also taken on manual mode. The rest of this week's manual photos can be seen
here
.
We had sushi and salad for dinner that night. I hate sushi. I live in Japan, and I hate sushi. I've tried the all vegetable kind and I can't get past the seaweed. I'm giving up. Anyway, we were not full after our light dinner. So Tom sent me to McDonald's. The McDonald's here does not take Visa so we had to scrounge up enough yen to get a couple cheeseburgers and some fries. I called him on my way home and told him I didn't have enough. He was so disappointed. I found this on the table when I got home, right next to the ketchup he thought we weren't going to need.
I tricked him. I barely had enough.
Brendan got a treat after his dinner. I bought him these cookies at the 100 yen store (3 packs/100 yen!).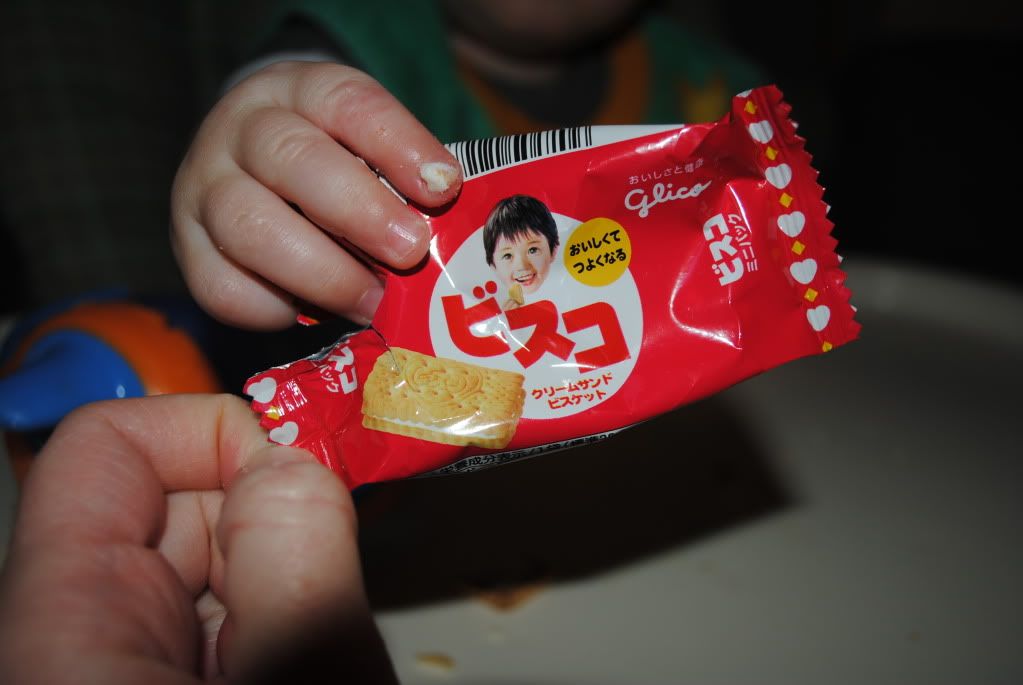 See those sticky fingers reaching for them?
It's hard to believe, but our baby boy turns ONE in exactly one week. Unbelievable.
Have a great week!